In honor of Valentine's Day coming up, I thought I'd post a pic of me and my sweet valentine. :)
I was browsing through an old photo box this morning, and came across this picture of me and Jeremy back in the dating days. i can't get over how young we look. i love this picture of Jeremy. And I had to laugh thinking about this particular day.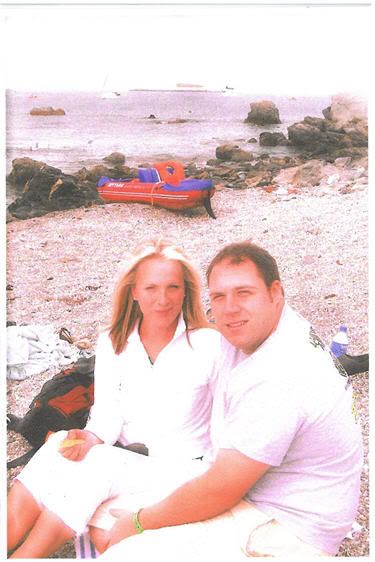 Catalina Island, 2005
It was a big singles ward activity with about 200 people crammed on a ferry boat ride from Newport Beach to Catalina Island for a day trip. The boat ride was a little over an hour, and let's just say I get more sea-sick than car-sick. One of the boat crew gave me dramamine midway through the ride and pretty much knocked me out soon afterward. (I was so desperate for any meds that I didn't even realize it was NOT the non-drowsy type.) As soon as we got to the island I just wanted to fall asleep, and found the closest beach spot from the dock. There is another picture of me (burried/lost somewhere...pre-digital world) where I am curled up in a ball in that very spot on my beach towel. I literally slept almost the entire day there. It's a good thing Jeremy's buddies were there that day, because they took off to go snorkeling for the majority of the day while I was napping. Seriously, I think this picture was taken during only a 30 minute awake period during the day. I feel like I missed out on all the fun, and have wanted to go back since to actually see some of Catalina island since.